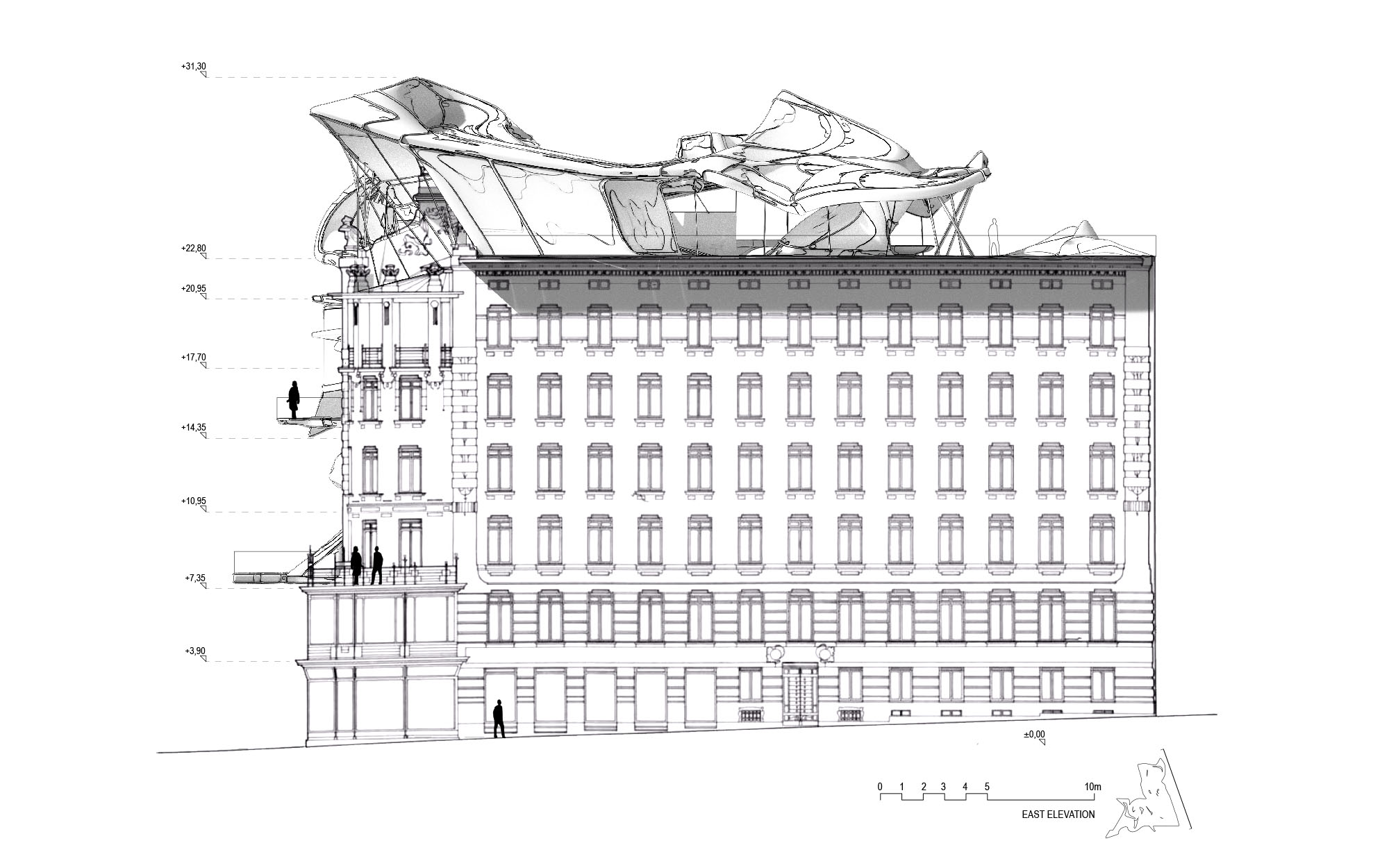 Located in front of the Wienfluss and Naschmarkt, the new rooftop house and facade is set in the central building of the three 'Wienzeilenhäuser' designed by Otto Wagner in 1898 and 1899. Considering one of the most relevant examples of the Viennese 'Jugendstilarchitektur', the five-storey building, together with its neighbours: the Majolikahaus and the Köstlergasse 3 house, represent Wagner´s vision of a 'Prachtboulevard' between Karsplatz and Schönbrunn Palace. The facades and interior spaces are full of decorative arts, which define the essence and aesthetics of the architecture.

The LWZ 38 project reinterprets the original ornament into a new contemporary graphic language, which is applied almost as a tattoo on the roof and south facade surfaces. The 2D pattern is offseted in order to create a 3D condition that generates a folded continuous surface over the original building. The new addition grows this way from the original decoration, becoming a spatial configuration itself. Parallel to this process, the old roof is demolished and covered by a roof landscape. Following the Viennese tradition of the 'Dachbau', the new 6th floor accommodates one rooftop house. The entrance happens through a one-storey extension of the original staircase. Three main pillars allocate the private services areas of the house and connect the offseted roof with the floor. A free floor apartment is only interrupted by pavement changes. A lightweight glass construction separates the interior space from the pool, roof garden and terraces. On the south facade a series of balconies and cantilevered boxes expand the spaces of the old house.


Endless golden lines run along distorted warp surfaces. Grey-black metal panels separate high relief masses. Ornament is the generator of the new architecture.
LOCATION
Linke Wien Zeile 38, Vienna

PROGRAM
Rooftop house and facade extension

YEAR
2017

STATUS
Speculative project for the
Angst Barrock exhbition, ICARCH. Hinterland Gallerie, Vienna
︎back to ARCHITECTURE